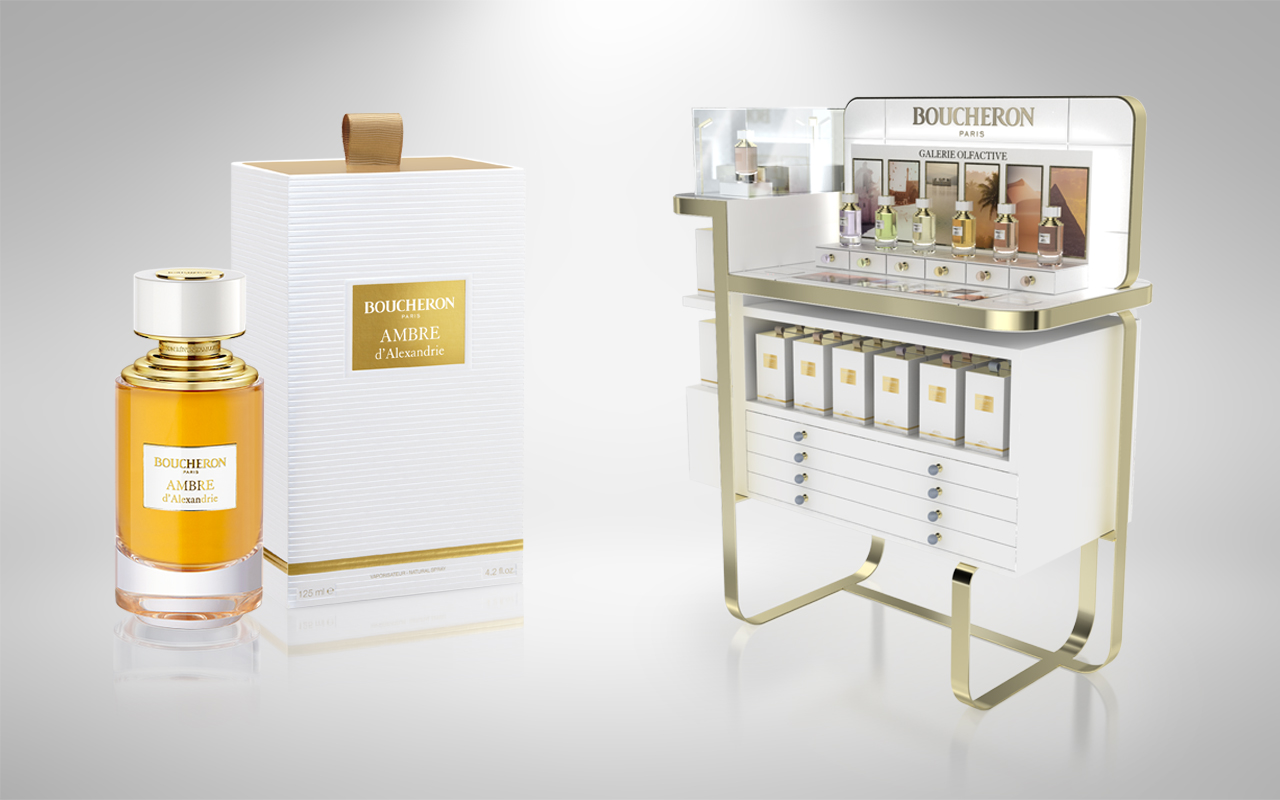 Creating a perfume bottle
A signature bottle for a 360° collection and creation
Boucheron, the leading jeweller of the Place Vendome has signed a new collection of fragrances based on six exceptional ingredients gleaned from across the world.
The role of the design: To conjure up a perfume bottle similar to a signature bottle for a collection inspired by gem hunters who travel the world seeking the most precious gems.
Artistic vision: To enhance these olfactory gems, Objets de Convoitises was inspired by a column of glass with perfect proportions extended by a thick cylindrical top in mineral white. The bottle is set with a gold metal top reminiscent of a gadroon, a patrimonial emblem of the House of Boucheron. The range of essences, defined by the agency, is revealed through transparency and evokes the quest of noble materials through the shades of precious stones:  a subtle bluish mauve for the Iris de Syracuse or pastel yellow for Tubéreuse de Madras.
For the sake of coherence, the luxury agency has designed packaging resembling a jewel box, merging immaculate white with a gold sheen. A delicate bow of coarse-grained ribbon matches the nuance of each fragrance allowing to differentiate between them and suggest a gesture of discovery. The creation studio took part in the retail design. The design extends to the fragrance tester strip, a gondola, and a mural as well as event podiums.
Design, Creation, Artistic management – perfume bottle, case
Merchandising Concept created and then declined by the creation studio
3D Volume, 2D Graphics, technical contract documents, development of elaborate packaging, industrial design follow-up (layout, iges verriers) architecture layouts
Material recommendations.
GRAPHIC DESIGN
Dance is the true essence of Repetto, the Interparfums house shares the same values:...

Categories:

Share Project :