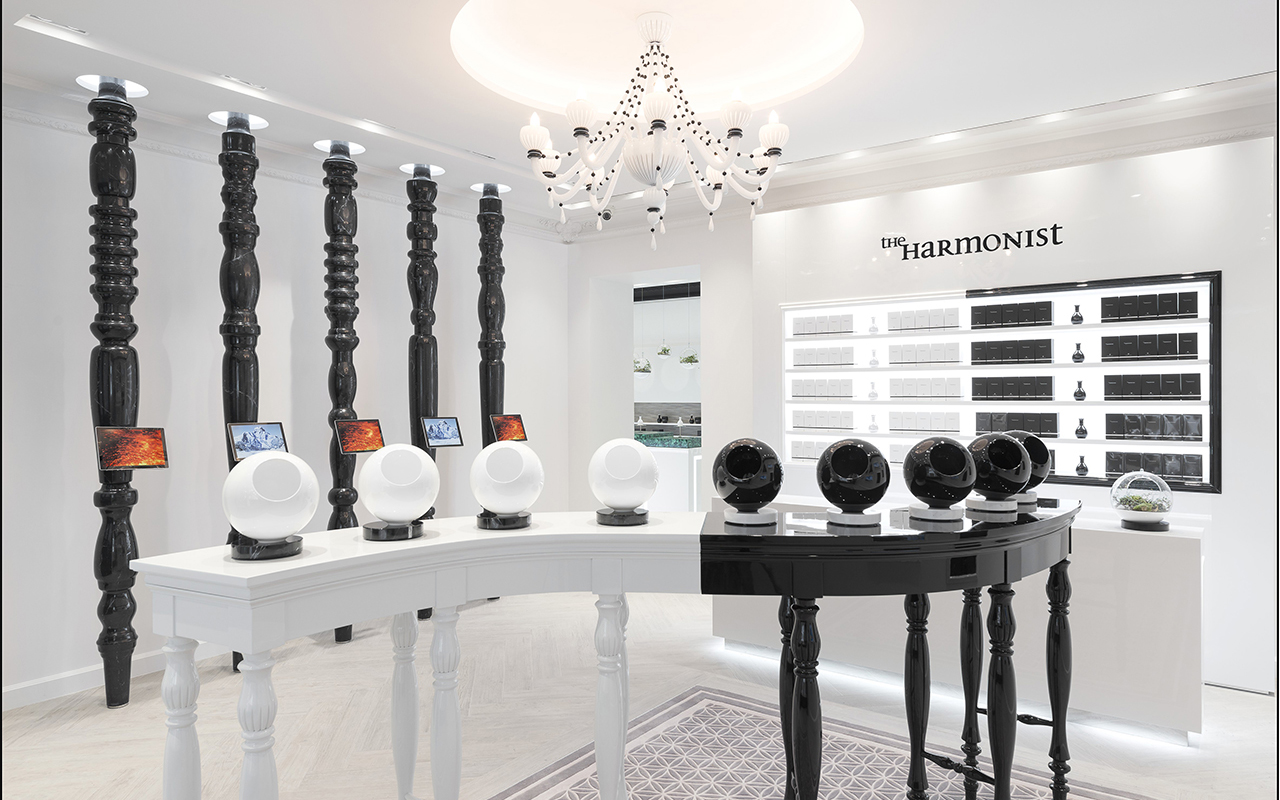 Deliver brand experience through a concept of spatial design
Inspired by the art of Feng Shui and oriental wisdom, the French-American brand The Harmonist offers a tailored experience of perfume with fragrances suited to one's element (water, fire, earth, wood or metal) and polarity (yin or yang) so as to develop the harmony in you.
The role of spatial design: To incarnate and impart a theme to brand values so as to create a customised customer experience
Creative vision: The store display reconciles French style and contemporary attitude in harmony with Feng Shui restrictions. Overall, this architectural work uses exceptional materials which are entrusted to the best French artisans. Each of the elements contributes in fashioning the spatial design: a colonnade of black Carrare marquina marble, a semi-precious malachite fountain, the French-style wooden parquet floor associated with Italian callacatta, hanging gardens as well as a Louis XV fireplace. Neoclassical chandeliers specially designed by the agency , were made in the house of Veronese in Murano. The Olfactoria, perforated glass bubbles on marble bases offer the perfect olfactory restitution of the 10 fragrances.
The store display dominated by black and white, is a direct reference to yin and yang. Historical allusions combined with sumptuous modernity place The Harmonist, from the outset, amongst international luxury brands.
Retain Design Concept, Design, Artistic management of flagship store, corner, POSM
Merchandising. Supplier sourcing. Follow-up of store display and production.
3D images, 2D Graphics, technical contract documents, style guide and merchandising charter.
GRAPHIC DESIGN
Dance is the true essence of Repetto, the Interparfums house shares the same values:...

Categories:

Share Project :